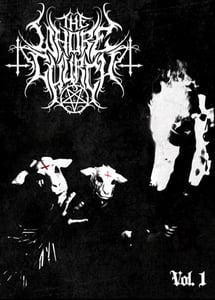 $

13.00
HOLY SHIT! HERE IT IS! 4 YEARS IN THE MAKING!
Suffer through hours of horrible video atrocities without getting bored or having to deal with irreparable mental damage! We've combed through the worst stuff we could find, thoroughly blended and regurgitated it back out as The Whore Church Vol. 1. It contains more madness, more insanity and more fart jokes than you can shake a stick at! We've also got a shit load of bonus features on this badboy! Throw this sucker on at a party to kick it up a notch.
SUPER DUPER REGION FREE!
Bonus Features include:
-Fully uncensored Yule Log Christmas special (with brand new freshly improved video and newly mixed and mastered audio!)
-Fffrrrreeeq- Dildo Science music video
-Our William Fucking Lustig tribute
-Vol. 1 audio commentary by Roil, Sleazee, BeerCop and Mr. Tasty.
-Easter muthafuckin eggs!
Check out the trailers over here!
http://www.youtube.com/user/TheWhoreChurch
18+ only!